Our Diversity and Inclusion
Philosophy
We are an 'Intentionally Diverse and Globally inclusive' Organization because we believe that if you do not intentionally include, you unintentionally exclude. Being 'intentionally diverse', which essentially means that we ensure we practice inclusiveness in all aspects of diversity – right from gender and sexuality to generation and ideation. Being 'globally inclusive' refers to our workforce consisting of individuals from over 100 counties as we prioritize local talent. We appreciate differences based on age, ethnicity, race, lifestyle, and social status and have designed a series of programs, policies, and initiatives to promote cultural diversity.
We believe that Diversity and Inclusivity (D&I) at the workplace is an instrument for growth and we value and celebrate the uniqueness of every individual by fostering an environment of inclusion and empowerment. Our policies and practices are gender agnostic. However many of our policies are tactically directed towards women and LGBTQ+.
Diversity of thoughts is at the core of our strategy, which helps us empathize with our customers and society, helping us always deliver par excellence solutions. We have a gamut of policies to meet the needs of all - the parents, the kids, the LGBTQ+ community, new mothers, people of different nationalities, age, sexes, specially-abled people, underprivileged communities, etc.
Alignment to Brand Pillars: All of Our D&I Programs and Practices align with the three
pillars of Rise. At Tech M D&I enables 'diversity of thoughts' which empowers all our
stakeholders to Rise.
Our Cultural Diversity builds on Alternate Thinking with the concept of 'Do more with less', leveraging local talent which is faster, and low cost in delivering services to our customers
Our Diversity of Abilities is based on the Accepting No Limits as we believe people with different abilities have more focused output when aligned with jobs that allow them to bring the best out of them.
Our Diversity of Gender, Generations, and Sexual Preferences are aligned to driving positive change by building innovative products and services for all our customers, who serve our end customers, a heterogeneous group of individuals with diverse backgrounds.
Process of Evaluation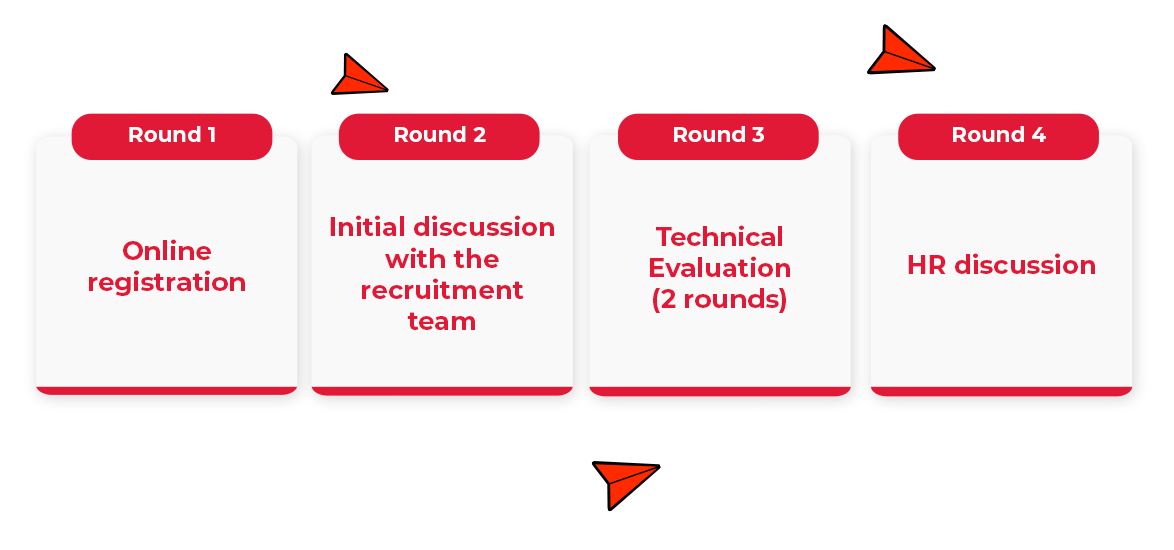 Current Opening
Experience: 3-8yrs
Location: Pune/ Bangalore/ Hyderabad/ Chennai/ Delhi NCR
Shift – General & 2nd shift (1 PM to 10:30 PM )
Job Responsibility
Must have development experience on Core JAVA and spring boot, Microservices should be JAVA 8 onwards
Must have hands-on experience on micro service using spring boot
Must have the good analytical skills to implement the changes as per HLD
Must have impact analysis skills to identify other impacts on certain changes in one service
Good soft skills and communication
Experience: 3-8yrs
Location: Pune/ Bangalore/ Hyderabad/ Chennai/ Delhi NCR
Shift – 2nd shift
Job Responsibility
Candidate will be working on Oracle Banking Accounts product as quality analyst and will be responsible for Automation testing and manual testing of software product.
Candidate would also be engaged in creating, maintaining and executing automated test scripts/cases.
Closely work with team on implementing service-based automation for Microservices.
Provide expertise in the planning, constructing and execution of test scripts.
Analyze test logs, create test reports and co-ordinate with stakeholders in tracking defects to closure and maintain defect repository.
Design and implement code quality checks and selenium / automation checks with CI/CD pipelines
Good understanding and experience in Agile test automation frameworks and approaches.
Requirement:
Strong in Testing methodology .
Test framework design and automation experience.
Experience in RDBMS databases.
Strong analytical and problem solving skills.
Understanding of QA methodologies, life cycle and processes.
Experience working closely with development and business teams to communicate impacts and to understand business requirements.
Experience in Microservice, REST api testing.
Experience in Selenium.
Experience in Java programming
Experience in the design and development of code to automate functional and regression tests
Experience in implementing code quality checks like SonarQube, jacoco, emma
Knowledge of Banking/Financial Product Software Testing
Knowledge on Security Testing would be added advantage.