Careers
Building leaders of tomorrow
We provide a work culture that offers our employees with learning and growth opportunities, and helps in building leaders of tomorrow. At Dr. Reddy's, our deep-rooted 'One Team' concept which celebrates diversity in our work culture is an active ingredient of our talent management formula. By going beyond hierarchy, we are building bonds with each of our employees - right from the management board to the machine operator. Together they are challenging the status quo, raising the bar and performing beyond potential.
Why Dr. Reddy's?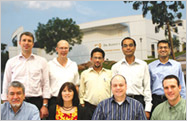 Established in 1984, Dr. Reddy's Laboratories (NYSE: RDY) is an emerging global pharmaceutical company. We owe this recognition to the constantly evolving team and organisational development efforts led by teams at all levels. And apart from constantly studying and adapting best practices from across the globe, we have no-holds barred, organisation-wide surveys of all stakeholders understand from them what needs to improve. This preoccupation to make Dr. Reddy's a progressive work place shows in our transparent recruitments, growth opportunities, best in class team welfare and well-being enablers and in the emergence of Dr. Reddy's as one of the most HR positive companies in the sector.
What Drives Dr. Reddy's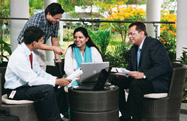 The hunger to do more, know more, to discover and deliver more sets Dr. Reddy's apart.
We see ourselves as pioneers and discoverers of live-saving solutions. Our teams share this belief and their commitment is complete in finding solutions to unmet medical needs, to improve the quality of today's medicines and to reduce their costs so more people across the developed and the developing countries get well and lead healthier lives. We are on a tough mission and energies can easily dissipate unless there is direction and dedication.
Life @ Dr. Reddy's
Our logo embodies the spirit of life at Dr. Reddy's.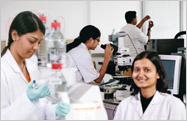 The warm yellow is the colour of delight and community.
The outstretched arms manifest the willingness to embrace diversity and the earnestness to make the stretch to do more.
The feet are raised at the heels attempting a tip toe. It symbolizes the potential in every citizen at the company to step up, go higher, and that such elevation is grounded to strong values of excellence and integrity.
The mind—the sphere of imagination—rises above the routine, to explore new frontiers and to show the way into the future.
This spirit comes alive at the company through an array of sensibilities and opportunities we have for our teams.
Content provided by
Dr Reddy's
, Info Edge India Limited disclaims all warranties against infringement.
Visit
Security Guidelines
and
Terms and conditions
for more comprehensive information in this regard